A third generation family business owned and operated by the Kokolski family. For over 55 years they have served their local community and western Canada.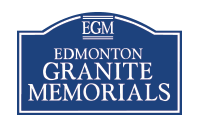 Address:
Edmonton Granite
13623–149 Street
Edmonton, AB
T5L 2T3
Phone & Fax:
Phone: (780) 425-6311
Fax: (780) 426-2281
E-mail:
info@edmontongranite.ca
Showroom Hours:
Monday-Friday: 8:30AM - 5PM
Saturday: 9AM – 4 PM (Mar. through Nov.)

Robert Anderson
Funeral Services, Inc.
115-190 MacAlpine Crescent
Fort McMurray, AB
T9H 4A6
P: (780) 790-1220
​F: (780) 790-9199