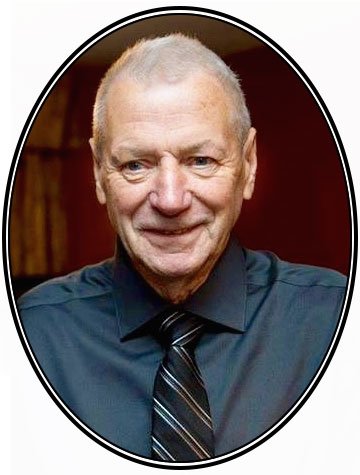 Obituary of Nathaniel Carol Payne
It is with great sadness that the family announce the passing of Nathaniel Carol Payne at the age of 80 on Dec. 26, 2018, while surrounded by his family and lots of love.
Nathaniel was born in Rocky Harbour Newfoundland on Sept 5th 1938 and along with his family moved to Cow Head Newfoundland. There he met and married his loving wife Eva Payne on April 25th 1962 and raised 2 children Caroline and Randy.
Nathaniel worked at various road construction sites around Newfoundland as a heavy equipment operator and most important to him was being involved with the constuction of the highway connecting the Great Northern Peninsula with Deer Lake.
Nathaniel moved to Fort McMurray Alberta 34 years ago to be close to his family. There he worked also as a heavy equipment operator with North American Construction and retired at the age of 70.
Nathaniel kept busy from sunrise to sunset. Always constucting or fixing something. Family was very important to him and he loved being around his grandkids and great grandkids.
Nathaniel will always be remembered for his love of life, music, songs, smile and laughter..
His memory will forever live on in our hearts. Nathaniel, Nath, Nat, husband, dad, brother, uncle, pop, poppy and friend.
Nathaniel was predeceased by his parents, Alexander(father), Agnes(mother), Clifford(brother), Harold(brother), Gordon(brother), Mavis(sister), Joseph Gaslard(brother-in-law), Marina Payne(sister-in-law), Loretta Payne(sister-in-law), Karl Payne(brother-in-law), Harry Woodman(brother-in-law), Howard Payne(father-in-law), Maisie Payne(mother- in-law), Aliyah-Jax(great granddaughter) and his dog Sadie.
Nathaniel is survived by his loving wife Eva of 56 years. His daughter Caroline (Gordon) Redford, Fort McMurray, Son Randy Payne (Cindy Cunningham) Edmonton, Marla (Tom) Walsh Fort McMurray.
Grandchildren: Kirstin (Nathan) Teed Fort McMurray, Sean (Kate) Redford Bonnyville, Justin (Lindsay) Payne Fort McMurray, Stephan Payne (Heather Ash) Edmonton.
Stepchildren: Logan Cunningham Edmonton, Sheldon Cunningham Edmonton.
Great Grandchildren: Adley, Brinley, Parker, Sasha, Quinn, Isla
Sisters: Lucy Payne Cow Head, Maureen Woodman Corner Brook, Geraldine Gaslard Port aux Choix, Shirley (Dennis) Gaslard Port aux Choix
Sister-in-law Margaret Payne Corner Brook, Brother-in-law Joesph Hatcher Deer lake and several nephews, nieces, great nephews and great nieces.
We would like to Thank Dr Botha and the nursing staff on unit 2 of St. Mary's hospital in Camrose for their care and help getting Nathaniel transported back to Fort McMurray to be close to family. Thank you to Richie and Garrett of Alberta Central Air for their care on route from Camrose to Fort McMurray.
Thank you to Melissa, Sunila, Nat, Victoria, Dr O'Connor and Dr Griffin for their help and assistance getting Nathaniel transferred home.
Thank you to Dr Ali, Tiffany, Amy, Darlene, Emily, Kendra, Jessica and 3rd floor staff for all the care and support at this difficult time in our lives..
A Big Thank you to all the Dr's. Nurses, client care aids, cleaning staff, food services and clerical staff of NLRHC 3rd floor for all the care you have given Nathaniel over the past several months. You all hold a special place in our hearts..
We would also like to thank Reverend Dane, Brenda Singh, Anderson's Funeral Home, Sharon, Wendy, Gary & Trish, Dolorus & Bernd, Kelly & Clint, for all the help, guidance and a shoulder to lean on during this difficult time. Thank you to those that have called, sent messages, flowers, food, baskets and kind words.
Service will be held on Jan 25 at 2 pm at All Saints Anglican Church, 9902 Manning Ave, Fort McMurray, Alberta
Please join us for refreshments following the service..
Donations can be made in Nathaniel's Memory to any one of the following:
Alzheimer / Dementia Society of Canada
Continuing Care Unit, NLRHC, 7 Hospital St. Fort McMurray, AB T9H 1P2
Palliative Care NLRHC, 7 Hospital St. Fort McMurray, AB T9H 1P2
A golden heart stopped beating,
Hard working hands at rest,
It broke our hearts to see you go,
God only takes the best.
They say that memories are golden,
Well maybe that is true,
But we never wanted memories,
We only wanted you.
Your life was love and labour,
Your love for your family true,
You did your best for all of us,
We will always remember you.
We sat beside your bedside,
Our hearts were crushed and sore,
We did our duty to the end,
Til we could do no more.
In tears we watched you sinking,
We watched you fade away,
And though our hearts were breaking,
We knew you could not stay.
Our lips cannot speak how we loved you,
Our hearts cannot tell what to say,
But God only knows how we miss you,
In our home that is lonely today.
Author Unknown
Service
2:00 pm
Friday, January 25, 2019
All Saints Anglican Church
9902 Manning Ave.
Fort McMurray, Alberta, Canada
Share Your Memory of
Nathaniel
Robert Anderson
Funeral Services, Inc.
115-190 MacAlpine Crescent
Fort McMurray, AB
T9H 4A6
P: (780) 790-1220
​F: (780) 790-9199