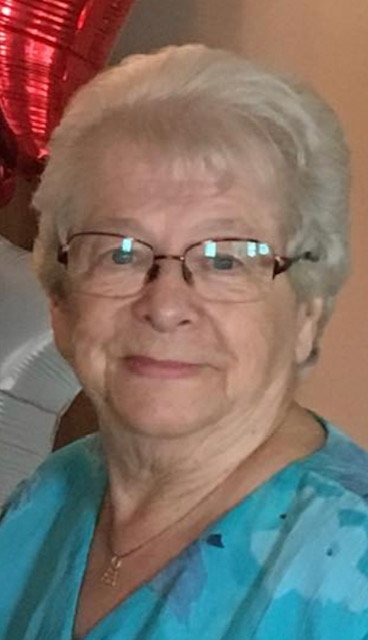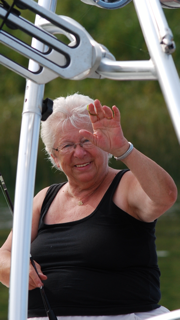 Obituary of Stella Olga Dowd
It is with deepest sadness and heavy hearts that the family announces the passing of Stella Olga Dowd, at the Northern Lights Regional Health Center in Fort McMurray. Surrounded by loving husband Leonard, her family and an abundance of love, Stella passed onpeacefully on January 1st, 2019.
Stella Olga Dowd (Oleksiw), was born to Peter and Mary Oleksiw, in Edmonton Alberta Canada on March 30, 1942.
Stella was one of three children, a sister to her older siblings William (Bill) and Jeanette. Stellas mom Mary passed when the children were very young, and Peter and their stepmother Eva raised the children in Edmonton. It was in Edmonton that she went to school, and grew into a lovely young woman. When Stella was working at an Edmonton hospital in 1963, she met a handsome young man, Leonard. He stole her heart, they began to date, and their love blossomed. Stella made a trip to Fort McMurray in the summer of 1964 to meet Lens parents, Jim and Gwendolyn Dowd and to see what she was getting herself into.​
Stella married Leonard J. Dowd, on May 8, 1965 in Edmonton, and the newlywed couple took the bold step of moving to the northern Alberta community of Fort McMurray. It was in Len's hometown that they wouldbegin their lives together, work, and raise a family.During the next few years, the young couple settled in, and soon welcomed their first son Lenny, their second son Larry, and finally, a young girl Debra-Lee to complete their family. Children and pets filled their homes, with laughter and love, from the small housewhere they spent their first years in Waterways, to their current home on Bennett crescent.
Stella was a stay at home mom while the children grew and then once they were in school, Stella worked part-time in various retail positions. She worked for the Hudson's Bay Co. for several years, and then to her final position as an assistant manager at Alberta Motor Products' Husky service station. Stella loved to keep busy and interact with people. It was during these timesthat she made so many friends through the years, and from all parts of the community. Friends and friendships, she treasured dearly.
Stella became a mother in law three times, and the family began to grow.
Around the time Stella was ready for retirement, she was blessed with 6 grandchildren in the course of 8years. Stella went from part time employment, to being a full-time grandma to Chantel, James, Kristy, Karlee,Justin and Keira. This was a title she was very proud of and eager to make the most of, along with Grandpa Len.
Stella enjoyed the outdoors, gardening, fishing and especially camping. When summer was in full swing, so was Stella! She absolutely could not get enough of her time at the Lake – with the "Fork Lake Gang". It was a place she loved, with people she loved. Family, friends, fresh air, hummingbirds, games, food and campfires…. these are the things that made Stella happy and brought joy to her heart.
In 2016, Stella received news that no family wants to hear, she has cancer. For some people, it would be over before it began, but not Stella. After the diagnosis, and consultations, Stella received some treatment at The Cross Cancer Institute. It was then and there that she decided her path forward. "I do not care what stage it is, where it is, or how much there is ". "I'm here and I will live my time day by day, to the fullest that I am able."
That is exactly what Stella would do for the next two full years. In December of 2018, after doing things her way, Stella was hospitalized, and would spend her remaining days, surrounded by constant visits from her husband, children and all of her grandchildren. Always smiling, she absorbed the love that surrounded her, and put it towards her fight.
When I'm Gone
When I come to the end of my journey,
And I travel my last weary mile.
Just forget if you can that I ever frowned,
And remember only the smiles.
Forget unkind words I may have spoken,
Remember some good I've done,
Forget that I ever had a heartache,
And remember I have had loads of fun.
Forget that I've stumbled and blundered,
And sometimes fell by the way.
Remember I have fought,
Some hard battles and won,
Ere the close of the day.
Then forget to grieve for my going,
I would not have you sad for a day.
But in summer just gather some flowers
And remember the place where I lay….
Stella is pre-deceased by her mother Mary (1946), father Peter (1977), stepmother Eva (1994), brother William (1994) and granddaughter Keira (2008).
Following Stella's wishes, a funeral service will not be held. In lieu of flowers, her wish was for friends to make a donation to the Fort McMurray SPCA in her name. Her hope was that her furry friends may receive some of the love that was so often shared with her.
A Memorial Tree was planted for Stella
We are deeply sorry for your loss ~ the staff at Robert Anderson Funeral Service, Inc.
Services for Stella Dowd
There are no events scheduled. You can still show your support by planting a tree in memory of Stella Dowd.
Plant a tree in memory of Stella
Share Your Memory of
Stella
Robert Anderson
Funeral Services, Inc.
115-190 MacAlpine Crescent
Fort McMurray, AB
T9H 4A6
P: (780) 790-1220
​F: (780) 790-9199